Double Iridium Spark Plug
● 0.7 mm diameter untra-fine iridium alloy electrode make ignitability and life have a dramatically improved.
● The structure reduce the voltage required for the positive discharges.
● Milleage drivability and durability are improved by using a finer center electrode with a platinum tip.
THE PLUG CONNFIGURATION

1

D12*L19*HEX 16

2

DAIHATSU/ISUZU/TOYOTA/MITSUBISHI

3

VFKB16
Improved Horse Power
The 0.4mm center electrode increases output under various driving conditions.
The power produced by the 0.4mm dia. iridium center electrode is IRIDIUM POWER unmatched by other plugs. The graph below compares the resulting power when IRIDIUM POWER is installed compared to other high performance plugs. Using a 0.4mm dia. fine center electode, there is more power compared to 0.8mm and 2.5 mm dia. plugs. This is what makes the difference in acceleration and in your lap time.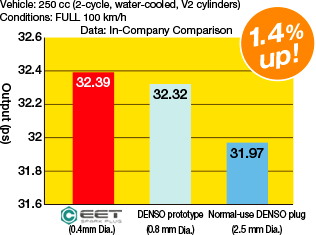 ---
Previous:
Tapered Seat Spark Plug
Next:
Lawn Mower Spark Plug
---